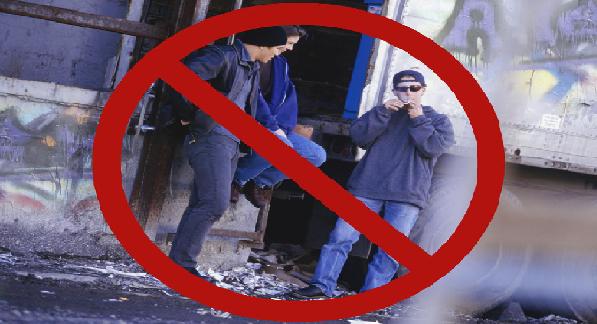 Gang loitering and street gangs have become a cause of concern allover the US and Canada. Gang loiterers indulge in antisocial activities like using drugs or assaulting shop keepers and committing various crimes to spread terror in the society. Though graffiti and vandalism of street gangs is not a recent phenomenon, it saw a steep hike in the last fifty years or so. Earlier the street gangs were active only in cities however at present gang loitering is a common phenomenon all over the US including villages and towns.
It is estimated that street gangs are active in over 1500 cities spread in 700 various counties. Street gangs influence young boys and school students to join their gang and to lead a lavish life style by way of crime, robbery and drug trafficking. Gang loiterers typically have specific locations where they will be active and they will make sure that other gangs do not trespass into their area. Though gang loitering is punishable by law, which can attract hefty fine and prison terms, this has not been a deterrent to the spread of gang loitering. Common man feels threatened and intimidated by these gangs, which involve in forceful extortion of money to sustain themselves. Among the US cities, Chicago was the first city to implement the anti loitering ordinance, which was passed way back in 1992 and was revised in the year 2000. So far thousands of arrests were made applying this ordinance.
Nevertheless, no laws could root out the street gang menace and the hapless public was forced to put up with this problem all through their life. There was no fool proof mechanism to curb this issue until very recently when the US based Dynatrac Systems came up with a unique device to deal with the menace of gang loitering in the year 2006. Now with the help of the Mosquito, loitering youth gangs indulging in anti social activities can be dispersed in minutes.
The sound of the Mosquito is heard best by youth between the ages of 13-25, which is the age range of the vast majority of street gang members. It is astonishing to note that this small and simple device that is hardly the size of your car stereo could send down a chill down the spine of scores of vandals and street gangs in no time. It is a harmless device which keeps the mischievous gang at bay with its high frequency buzzing sound. Mosquito can be programmed to start when any motion is detected and has also a timer and 20 minute auto shut off options. In case you need continuous operation, it can be achieved by adding an extra chipset, which is useful for policing and surveillance mechanisms. No more threatening calls and baton charges just switch on this simple device and see the gang members taking to their heels in distress! Mosquito is useful for customers of all walks of life. From homes to pubs and supermarkets and school compounds, Mosquito is effective in curbing anti social behavior and gang loitering thereby ensuring peace of mind apart from helping you to save a pretty penny by way of anti graffiti operations.